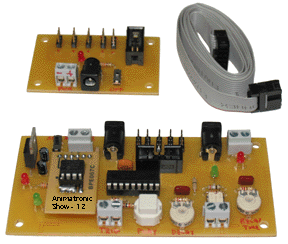 Click on Image for a Close Up View

Remote Servo Connection
Board Size:
2-5/8" L x 1=3/4" W x 1/2" H
Ribbon Cable = 3 Feet

Playback Board Size:
4-1/2" L x 2-1/4" W x 1/2" H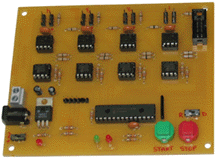 Recorder Board Size:
5" L x 4" W x 1/2" H

EEPROM Board Size:
1-1/4" L x 3/4" W x 1/2" H

Click on image to see EEPROM on
Playback Board

Manual
Application Notes
4- Channel Servo Recorder and Playback Boards
(Brookshire -VSA Interface Board)
This unique controller board set consists of 2 boards, a 4-Channel Servo Recorder board and a stand-alone 4-Channel Servo Playback board. The 4-Channel Servo Recorder board is connected to a servo driver board (See list below) which is connected to a computer and servo control software (VSA-Brookshire, other software). Servo Programing is done on the computer by VSA software and the output is sent to an attached servo driver board (SV203, Mini-SSC II) which is connected to the 4-Ch Servo Recorder board. The Recorder Board will receive and record up to 4 servo signals simultaneously and store them on individual on-board EEPROMS when activated. Up to 10 minutes of servo activity can be recorded to the EEPROM's.

Once you have recorded your servo program, you will then flip a switch on the recorder board, press a button to download all 4 servo programs to a single 8-pin EEPROM. This EEPROM is then removed from the Recorder Board and then placed on the stand-alone Playback Board. The EEPROM is on a easy to use board adapter that also has an area to write a label of what the EEPROM holds . With the easy to use EEPROM board, you can program the same show on multiple EEPROMs, place into another optional playback board or collect different shown on sets of EEPROMs, drop in a recorded EEPROM and have a new show in seconds. The Playback board will then playback the servo routine whenever it is triggered by a dry contact closure, manual switch, sensor. There is a potentiometer on the Playback Board that will prevent the board from being re-trigger for 0 to 6 minutes after the program completes playing.
The Stand-alone Playback board also has an optional uses 1-Channel Solid State Relay (2 amp) that will activate every time the board is triggered, There is an adjustable potentiometer on-board that lets you set the relay on time. This relays is great for triggering other controller boards, MP3 sound boards or activating other effects, devices connected.
Computer Interface Servo Controllers:
This control board set will work with any Computer to Servo Driver board, including all of the Wizard Control Boards, R/C Radio Control Transmitters and receivers , DMX to servo, along with the following Computer interfaced boards.
- Pontech - SV203
- Scott Edwards - MiniSSC
- Parallax - Servo Controller
- LynxMotion - Servo Controller
- Servo City - Servo Driver Boards / Devices
- Board of Chuckie
- Phidget -Servo Driver
- Simple Servo Board
- Mr Servo Board
- Pololu - Servo Controller Boards
- The picoPic Board
- Ozitronics - K1001 Serial Servo Controller
- e-Gizmo - Servo Driver Board
- Robodyssey - CPU / Servo Board
- Tom's R/C - SC-8000 Servo Controller
- Any servo control board that outputs PWM signals 1.0-2.0 msec.

DMX Interface:
- Blue Point Engineering DMX to Servo Board
- Velleman K-8062 DMX Interface

R/C Transmitters and Receivers:
- Futaba System
- Spektrum Radio System
- Other R/C Systems

Computer Software:
- VSA - Brookshire
- Pontect SV203 - Control Software
- Scott Edwards - MiniSSC Control Software
Recorder Board require 7.5 to 24 Vdc at 200 mA supply
Playback Board require 7.5 to 24 Vdc at 200 mA supply and 5-6 Vdc at 4 Amp power supply to power servos
( Servos, power supplies, computer interface boards, software, R/C Transmitter-receiver and jumper wires not included )