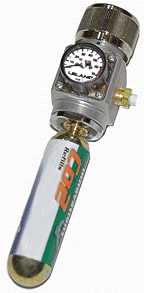 Click on Image for a Closeup View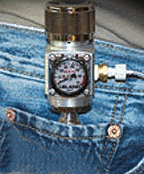 Pocket Size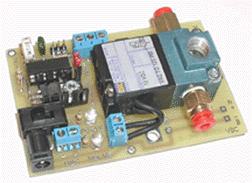 R/C Controller and Valve



Example Hookup and Applications
Wearable Mini C02 Pneumatic System
Mini C02 System to power pneumatic Wearable Special Effects Devices.

System comes with Regulator, R/C Programmable Valve Controller Board, Remote 3-Way Pneumatic Valve and basic hookup hoses.

Regulator can use cylinder sizes, 25, 88, 567 gram CO2 cylinders.
NOTE: a C02 Cylinder is not included but can be purchased locally at most hobby shops, paintball, sporting stores, home remodeling, hardware stores.
Some CO2 cylinder sizes will require adapters to fit mini Regulator
(Due to shipping safety laws, cylinders can not be shipped)



MINI REGULATOR:
Adjustable, with PSI gauge 60 psi max outlet pressure, 1/8"NPT female outlet, 5/8"-18UNF inlet, Anodized Aluminum body with brass and stainless steel
The regulator accepts standard 88 gram CO2 cartridges without an adapter. With the 25g adapter, the regulator will accept 25 gram CO2 cartridges and with the 567g adapter, the regulator will accept the larger paintball CO2 cylinders like the 20 ounce, 567gram cylinder.
Optional Cylinder Adapters



R/C Servo Pneumatic Valve
The Mini Regulator is connected by supply hose to the unique R/C servo operated - Single-Acting 3-way valve.
The valve Runs directly from R/C receiver, Wizard, or Puppet boards, no interface, linkage or servo needed. Valve activation point ON and OFF default can be set. This valve can also be used to operate larger pilot-operated valves, Props, Robot modules, air cylinders, noise effect modules, or any where you need programmable air control. PC board can be split with the valve at a different location than the controller electronics.
Board Size. 3-7/8" L x 2-5/8" W x 1-3/8" H
Valve rated at 120 PSI.
12 Vdc power required
(12 Vdc power supply, R/C receiver, Wizard Puppet controllers, servo wire lead not included )
How to Attach Electronics
and Pneumatics to Costumes
How to Attach Mechanical
Components to Costumes